10 Things You Need to Know Today: Thursday, December 22nd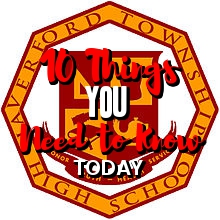 Hang on for a minute...we're trying to find some more stories you might like.
1. Senior Quotes Survey form is due at the end of school tomorrow.  
All seniors, please check your school Google account to fill out the form to ensure a spot for your awe-inspiring quote in the 2017 yearbook. You will also find the "Who's Who" of the class survey. 
2.Tunisian suspect in Berlin attack found by German officials.
German officials have placed blame on Anis Amri for the Berlin incident. Amri arrived in Germany last year and officials had considered him a potential threat before the attack but were unable to deport him because of lacking paperwork from Tunisia.
3. Obama bans Arctic drilling. 
In an effort to minimize oil spills and leakages, Obama has banned drilling for environmental protection purposes. While business leaders from oil industries have objected to this, Obama believe he has made the right choice to set a legacy and example in the future Trump presidency.
4. Fan Club clothing order is in today. 
Anyone who ordered clothing or merchandise from the Fan Club order should go to 258 during homeroom today to pick up the products before winter break.
5. Repeal of North Carolina LGBT law fails. 
The state's bitter political divide was made even more apparent in the disintegration of the bipartisan deal to repeal HB2, nicknamed "the bathroom bill." Global corporations and music and sporting events have stayed away from the state in protest of what they see as a discriminatory law.
6. National Business Honor Society Collecting Clothing for Career Wardrobe. 
The NBHS is holding a clothing drive to support their service project for the year, Career Wardrobe. The organization supports women and men transitioning to the professional world by helping them build a wardrobe for the working world.
7. Snow in the Sahara Desert for the first time in 37 years.
Despite being the world's hottest desert, for the first time in 37 years, it wasn't spared from the freak snowfall on December 19th.
8. Oldest known gorilla turned 60.  
Colo, the gorilla at Columbus Zoo and Aquarium, lives to being 60 years old! This female gorilla won't be seeing Harambe just yet!
9.Last Aleppo survivors being evacuated. 
Last few thousand people are now being evacuated within hours in buses and private cars, by the International Committee of Red Cross.
10. There is 1 day of school left before Winter Break. 
With just 1 school day until winter break, Haverford students are gearing up to celebrate in the holiday spirit. To get the community excited, The Fordian is covering the 12 Day Countdown to break with a new article every school day; be sure to check them out!