The 10 Things You Need to Know Today: Tuesday, December 20th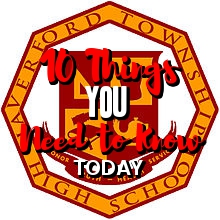 Hang on for a minute...we're trying to find some more stories you might like.
1. FBLA sends 17 qualifiers to the state competition.  
On Friday, 29 members of the Haverford chapter of  Future Business Leaders of America attended their annual regional leadership conference to network with other FBLA members across Delaware County. They also found out the results of their fall regional competition.
22 students went home with awards, and 17 qualified to attend the state leadership conference in the spring.
State Qualifiers:
Dan Kane — Agribusiness, 3rd place
Cathleen Chen, Phoebe Huynh, and Mariah Lee — Business Ethics, 1st place
Jack Ryal — Business Law, 1st place
Brendan Hayes — Business Law, 2nd place
Elvi Sopiqoti — Economics, 1st place
Nate Kader — Future Business Leader, 1st place
Nhl Nguyen — Intro to Business Communications, 3rd place
Trey Emeno — Intro to Parliamentary Procedure, 4th place
Elijah Cordrey — Journalism, 3rd place
Sarah Derbyshire, Yeryn Do, Julie Lu, Alison Tintera, and Maya Troilo — Parliamentary Procedure, 1st place
Dan Ball — Securities and Investments, 1st place
Honorable Mention:
Alex Arcidiacono — Impromptu Speaking, 2nd place
Lilly Zeitlin — Job Interview, 2nd place
Nora Derbyshire, Megan Phillips, and Jane Zarella — Management Decision Making, 2nd place
2. Russian Ambassador to Turkey Assassinated.
Yesterday during a talk at an art museum in Ankara, the Russian Ambassador to Turkey, Andrey Karlov, was shot dead by his own bodyguard. His bodyguard was a 22-year-old Turkish Police Officer, Mevlut Mert Altıntas; Altıntas was also killed by other officers after he shot and killed the Ambassador. His motive seems to stem from anger over Russia's involvement in the Syrian War, as he reportedly shouted, "Don't forget Aleppo!" moments before firing on the Ambassador. 
3. Varsity Ice Hockey Continues Streak with Big Win.
Haverford's own Varsity Ice Hockey Team kept the win streak alive after a big win over Harriton last night. They won with the impressive score of 11-2. Their next game is Wednesday, December 21st at Ice Works 2, and it will take place at 9pm against Penncrest. 
4. German Christmas Market is Rocked with Tragedy.
Yesterday in Germany a lorry crashed into a crowded German Christmas Market. A reported 12 people were killed and 48 more were injured. The driver is still at large with the German Police picking up a suspect but reports are coming out just now that it is the wrong man. They are suspecting that this was an act of terrorism, however, no terrorist group has claimed responsibility. Hopefully the driver will be caught and investigated soon.
5. Trump Elected by the Electoral College. 
Trump has gotten all necessary votes from the Electoral College in order to continue the steps to becoming our next President of the United States. He received 307 votes with 270 being the necessary amount needed. As well, some voters did not vote the way their states did causing him to lose 2 electoral votes overall; however, 4 electors in Washington declined to vote for Clinton, who won the state's 12 electoral votes, and instead 3 voted for Colin Powell and 1 to Native American leader, Faith Spotted Eagle. 
6. Pen and Ink Meeting Today. 
The literary magazine will host a meeting today after school in room 228. Current members are encouraged to attend as well as anyone who might be interested in submitting creative writing, poems, original artwork, or photographs. Contact Ms. Rudolph with submissions.
7. Blue Route Closed This Morning.
A tractor-trailer fire caused a 10-mile backup from Broomall to the Pennsylvania Turnpike on southbound I-476. During the delay, another car caught fire, unrelated to the truck fire, and crews had trouble getting through the bumper-to-bumper traffic, but no one was injured.
8. Dodgeball Teams Should Plan to Arrive in the Gym at 12:30 on Friday.  
This Friday is the big Dodgeball Tournament all Haverford Students know and love. The teams that are participating this year are to arrive at the gym at 12:30 to prepare for the event which spans all of 4th block.
9. Disney Crosses Milestone 7 Billion. 
Disney breaks another record in the Film Industry. They have officially passed $7 Billion in ticket sales alone in the year of 2016. Their main movies that helped them were Captain America: Civil War, Finding Dory, Star Wars: The Force Awakens, Zootopia, and Star Wars: Rogue One. This sets a new industry record which will be very hard to beat and will most likely only be beat by Disney themselves.
10. There are 3 days of school left before Winter Break. 
With just three school days until winter break, Haverford students are gearing up to celebrate in the holiday spirit. To get the community excited, The Fordian is covering the 12 day countdown to break with a new article every school day; be sure to check them out!