10 Things You Need to Know Today: Friday, December 16th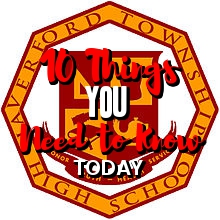 Hang on for a minute...we're trying to find some more stories you might like.
1. The NHS Gift Drive continues with students and faculty wrapping 800 gifts last night.  
Next week is the last week that NHS members will be coming to your classroom to collect donations for their Gift Drive — even though they wrapped last night, they will continue to collect donations because the goal is to provide food and other necessities for the families in our gift drive/community.  Your support is so important — small change can lead to big change.
The homeroom that donates the most money wins a 50 person hayride from Linvilla!  First and second place will earn a breakfast of full-sized donuts and juice in January!
The NHS students also showed up in force to help make this a season for giving — they worked very hard and very long to wrap almost 800 gifts in just over 7 hours!
2. Facebook is cracking down on fake news.
Facebook users will now be warned before sharing a story that's actually fake news. The social media site will now be working with fact-checking websites to combat this major issue and identify bogus stories.
3. Congratulations to the football team's All-Delco players.
All the best to All-Delco players Jack Farrell, Jordan Mosley, Chris Trainor, Mike Romanofsky, and Jake Ruane.
4. Rogue One is out in theaters today.
Rogue One is the highly anticipated prequel to the Star Wars series. While the film was technically in theaters last night, tonight is the first weekend night of the release. Theaters are expected to be packed, so buy tickets early if you can. Buy tickets for Marple 10 here and Regal Edgmont here.
5. Freshman class picture will be taken at 2pm today. 
Students will be dismissed from the gym.
6. Craig Sager died. 
Longtime sports broadcaster, Craig Sager, passed away last night at the age of 65. Sager lost his battle with leukemia. He was known for his bright-colored suits and professionalism. Condolences came from all over the NBA, including Hall of Famer Larry Bird.
"He was as identifiable with the NBA as any player or coach," Bird said to ESPN. "The league will not be the same without him."
7. Student-run theater production of "Almost Maine" is looking for performers.
The meeting will take place today after school in room 330 for anyone who is interested in auditioning for this first-time event. "Almost Maine" is a comedic play that is structured similarly to films like Love Actually, where vignettes tell a larger story.
8. Amazon made its first drone delivery.  
Amazon last week made its first customer delivery by drone, carrying a package containing popcorn and a Fire TV video-streaming device several miles to a two-story farmhouse near Cambridge, U.K., in 13 minutes.
9. Home basketball game tonight against Upper Darby. 
The game will take place at 7:30. Come out to support the team and root them on against the rival Royals. 
10. There are 5 days of school left before Winter Break. 
With just five school days until winter break, Haverford students are gearing up to celebrate in the holiday spirit. To get the community excited, The Fordian is covering the 12 day countdown to break with a new article every school day; be sure to check them out!