10 Things You Need to Know Today: Wednesday, December 14th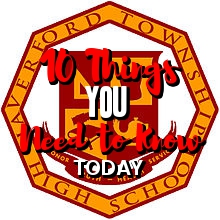 Hang on for a minute...we're trying to find some more stories you might like.
1. Actor, Alan Thicke, died suddenly last night at the age of 69.  
Alan Thicke, best known for his role as the father in the ABC television series Growing Pains, died on Tuesday, December 14 of a heart attack. Thicke portrayed a corny and composed TV dad who offered virtuous life advice to his family during the 1980s. As news of his death spread, the fans mourned the death of the loss by recalling lyrics from the show's theme song: "Don't waste another minute on your crying."
2. Band and Orchestra winter concert will take place tonight.
Both the band and the orchestra will hold a concert in the auditorium tonight at 7pm. Come out to support your classmates and to experience a concert like no other!
3."Fate of the Furious" Trailer Video Takes Off
The trailer for the new movie "Fate of the Furious", the eighth movie in the Fast and Furious series, recently broke a record. It was the most watched video of all time within a 24 hour span. The video reached 139 million views just in that short time span.
4. Simone Biles Named ESPN Woman of the Year.
Simone Biles, the 19 year old American artistic gymnast, was recently named the ESPN Woman of the Year. Biles is the 2016 Olympic individual all-around, vault, and floor gold medalist. She has a total of 16 gold medals, 2 silver medals, and 3 bronze medals throughout her competitions.
5. Little Bomb's video for "Oh God" dropped. 
Student rapper, Little Bomb, released his most recent music video for "Oh God" today. Check it out on YouTube and enjoy the cameos by many H-Vision favorites and Haverford students. 
6. The wrestling team travels to Upper Darby tonight. 
Haverford's wrestling team will take on the Upper Darby Royals tonight at Upper Darby. The match starts at 7pm sharp. Upper Darby is a challenging team and the matches are guaranteed to be intense. Be sure to get out there and support the Fords!
7. President Obama signs 21st Century Cures Act as his final act in office.
As his last act of presidency, Barack Obama signed the 21st Century Cures Act, a bipartisan legislation that will bring about the medical breakthroughs needed to overcome some of the biggest health challenges we are currently facing.
8. National Honor Society gift wrapping will take place tomorrow after school. 
The National Honor Society will be wrapping gifts tomorrow, Thursday December 15, to give to those who are less fortunate in our community. For those who still would like to hand in gifts be sure to get them in by tomorrow to Mrs. Jackson's room. The fundraising will continue next week in homerooms. Remember: small change makes a big change. 
9. The first swim meet of the season is tonight at Lower Merion. 
Haverford's swim team will travel to Lower Merion tonight for their first meet of the season. The meet starts at 3:45; be sure to wish them good luck and show support!
10. There are 7 days of school left before Winter Break. 
With just eight school days until winter break, Haverford students are gearing up to celebrate in the holiday spirit. To get the community excited, The Fordian is covering the 12 day countdown to break with a new article every school day; be sure to check them out!