10 Things You Need to Know Today: Tuesday, December 13th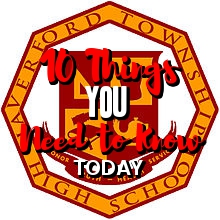 Hang on for a minute...we're trying to find some more stories you might like.
1. Hi-Q placed #1 in their match against Radnor and Garnet Valley.  
Our Hi-Q team is currently sitting in first place after a win against Radnor and Garnet Valley on Monday. This is particularly impressive as Garnet Valley were last year's national champions. Delco Hi-Q is the oldest continuous academic quiz competition in the United States. Twenty-one area high schools participate. Each team has ten members and each school hosts one competition each year. The overall winner each year is awarded the Donna Zerby Trophy as well as $3000 for their school. The next match-up will take place on January 6th.
2. President-Elect Trump nominates Rex Tillerson as Secretary of State.
Tillerson is the Exxon-Mobil Corp Chairman and CEO.
"His tenacity, broad experience and deep understanding of geopolitics make him an excellent choice for Secretary of State" said Trump.  He has not yet been appointed, and as the decision still has to go through the Senate and the House, the process may not be an easy one.
3. Class of 2019 Chipotle fundraiser will take place tonight. 
The fundraiser will take place at the Quarry Center location from 5-9 pm. Come out to support your fellow classmates. Tell them at the counter that you are with Haverford High School to help assist in the fundraising efforts. Half of all proceeds will go to the class of 2019. 
4. The Regime now holds almost all control of Aleppo and 82 civilians were killed. 
About 100 children are trapped in a building that is under attack and may other problems still continue to disintegrate. If they gain full control this will be a turning point in the five-year civil war.
5. The Spanish Honor Society's induction takes place tonight. 
Each year students who are inducted are required to have partaken in at least three semesters of Spanish and maintained an honors grade in all the classes. Congrats to all that are being inducted.
6. The new iPhone update iOS 10.2 is available. 
The new update includes the new TV app, changes in the photos app, more screen effects in Messages, updates in the Music app, etc. Although that is all cool everyone is excited for the new emojis. There are over 100 new emojis with new faces, foods and animals. You can now find a person shrugging, the black heart, an avocado, and a gorilla among others.  
7. Ultimate frisbee is holding an IMPORTANT meeting after school today.
This meeting will determine the future of the club and help to decide whether or not it will become a school affiliated sport. Dr. Pollard's room, 353, will host. 
8. Ed Sheeran's mysterious blue photo post might mean an upcoming album release. 
A year ago today Ed Sheeran posted a photo on Instagram saying, "I'm taking a break from my phone, emails and all social media for a while… the 3rd album is on its way and is the best thing I have made thus far. See you all next autumn." Today, a year later Sheeran posted a blue photo on Instagram and Twitter, he also made his profile picture the same blue photo. Maybe a new album is on its way, like he said. Hopefully we find out soon!
9. Swim team's first meet will take place tomorrow, December 14th. 
The meet is against Lower Merion and will take place at Lower Merion at 3:30 pm. Be there to cheer on your friends and peers as they compete for the first time this season.
10. There are 8 days of school left before Winter Break. 
With just eight school days until winter break, Haverford students are gearing up to celebrate in the holiday spirit. To get the community excited, The Fordian is covering the 12 day countdown to break with a new article every school day; be sure to check them out!