10 Things You Need to Know Today: Monday, December 12th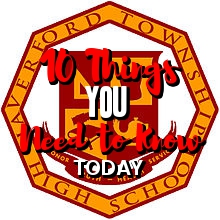 Hang on for a minute...we're trying to find some more stories you might like.
 1. Flyers on a 9-game winning streak.  
It has been 21 years since the Flyers were on this long of a hot streak. With their 1-0 win against the Detroit Red Wings on Sunday, they now go into their next game against Colorado. A win against the Avalanche would give them their longest streak since 1985.
2. This week's Fords Poll asks you to consider this year's trends.
Be a part of the data for this week's Fords Polls by checking out @hvisionpolls on Twitter. Voice your opinion as we ask you what was your favorite trend of 2016. 
3. La La Land is the big winner at this year's 22nd annual Critics' Choice Awards. 
Last night marked the 22nd annual Critics Choice Awards. The musical film La La Land not only took home the top prize of Best Picture, but was also awarded seven other wins as well. "The People Vs. O.J. Simpson," led the television recipients with four awards. Here is the complete list of winners. 
4. The first practice of the unified bocce team will take place today after school. 
Practice for Haverford's first ever unified bocce team will be held in the West Cafeteria from 2:30 to 4 today. One of Marple Newtown's teams in the sport, The Roar, competed last year in the state competition. Haverford is hoping to be competitive as well this year.
5. Russell Westbrook's triple-double streak is broken. 
After a seven game streak of triple-doubles where he accumulated double digits in at least three of the five categories in basketball, Westbrook's streak was broken last night when the Oklahoma City Thunder were defeated by the Boston Celtics.
6. The Chipotle fundraisers for the class of 2019 takes place tomorrow. 
Tomorrow from 5-9 pm there will be a Chipotle fundraiser for the Class of 2019. Come out to support your fellow classmates. Tell them at the counter that you are with Haverford High School to help assist in the fundraising efforts. 
7. Winter storm cancels 1400 flights in Chicago. 
Over the weekend there was around ten inches of snow falling in Chicago and throughout the midwest causing lots of transportation issues like the canceling of approximately 1400 flights all throughout America.
8. Champions League round 16 drawn. 
The drawings for the Champions League have arrived. The Champions League is made up of soccer teams chosen by the European football association and consists of some of the best teams. The match-ups this year are as follows: Manchester City FC vs As Monaco FC, Real Madrid CF vs SSC Napoli, SL Benfica vs Borussia Dortmund, FC Bayern Munchen vs Arsenal FC, FC Porto vs Juventus Football Club, Bayer 04 Leverkusen vs Club Atletico De Madrid, Paris Saint-Germain vs FC Barcelona, and finally Sevilla FC vs Leicester City FC.
9. Trump urged to keep One China policy. 
Yesterday a Chinese Official urged Donald Trump to keep the One China policy in his presidency. The One China policy is where the U.S does not recognize the country of Taiwan and only recognizes it as China; however, since winning, Trump has already made a call to Taiwan, raising many concerns. 
10. There are 9 days of school left before Winter Break. 
With just nine school days until winter break, Haverford students are gearing up to celebrate in the holiday spirit. To get the community excited, The Fordian is covering the 12 day countdown to break with a new article every school day; be sure to check them out!