10 Things You Need to Know Today: Friday, December 9th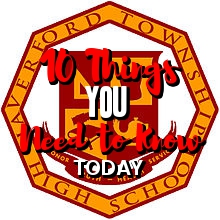 Hang on for a minute...we're trying to find some more stories you might like.
 1. Astronaut John Glenn, 95, died yesterday.  
The first American to orbit the Earth and a longtime US Senator, John Glenn, passed away yesterday surrounded by family in Columbus, Ohio.
"As we bow our heads and share our grief with his beloved wife, Annie, we must also turn to the skies, to salute his remarkable journeys and his long years of service to our state and nation," said Ohio Governor, John Kasich.
2. The Science Department offers you a puzzling Friday. 
Do you like puzzles? Well, puzzle this…today, the Science Department will be wearing a word jumble. Be the first person to decode the puzzle and tell Principal Donaghy in person and you will win a prize. 
3. J Cole's album, 4 Your Eyez Only,  drops today. 
Today marks the much-anticipated album release of 4 Your Eyez Only comes without much promotion except for a 40-minute documentary that the North Carolina rapper's fans came out in droves to see. The album is made up of 10 tracks. 
4. Haverford Band and Orchestra parents host a Holiday Expo shopping extravaganza tomorrow. 
Are you looking for a gift this holiday season? The Band and Orchestra parents have your answer. Tomorrow, December 10th, the event will take place in the West Commons from 1-5. Offerings include artisan jewelry, unique toys, natural bath and body products, LulaRoe, holiday decor items, Stella and Dot, sports cards, Jamberry nail wraps, and more! There will be plenty of activities for children including a make and take craft table and face painting and you can also get your fill of baked goods and Tony Roni's Pizza. Admission is free!
5. The Parade of Lights will take place tomorrow on the Philadelphia waterfront. 
Head down to the Delaware waterfront tomorrow for the 7th annual Parade of Lights, a boat parade that features both pleasure and working boats decked out in decorations and lights. The parade officially begins at 5:30 pm, but there are many events taking place from 11 am on at the Independence Seaport Museum including a craft festival, performances by the Philly Pops, and more. 
6. The Spanish Club's charity sale continues at all lunches. 
During all lunches, the Spanish club is selling bracelets to help the Pulsera Project. The project is a nonprofit organization that "educates, empowers and connects Central American artists with students in more than 1300 U.S. schools." It is a fair trade project and all proceeds go back to the country. The sale will continue until December 19th. 
7. There was an overdose surge in Philadelphia of 35 deaths in 5 days. 
Last weekend, according to Philadelphia police, nine overdose deaths occurred in just 36 hours. This adds to the shocking surge of overdose deaths. While the police are in the process of figuring out why this surge is taking place, they may have resulted from heroin that was cut with more powerful synthetic opioids such as fentanyl. Many of the deaths took place in and around Kensington. 
8. "Oh God" music video shooting this Sunday at Coopertown and looking for extras. 
Little Bomb and Lil Xay will be shooting their new music video on Sunday, December 11th at 2pm on the basketball courts at Coopertown Elementary School. You are invited to be an extra in the video. Be ready to have a good time. 
9. Rocky film's 40th Anniversary marked by screening at the Kimmel Center this weekend. 
The Kimmel Center will offer two screenings of the iconic Philly movie in 4K digital release tomorrow, December 10th. There is a 3pm and 8pm showing and tickets are available here.
10. There are 10 days of school left before Winter Break. 
With just ten school days until winter break, Haverford students are gearing up to celebrate in the holiday spirit. To get the community excited, The Fordian is covering the 12 day countdown to break with a new article every school day; be sure to check them out!