10 Things You Need to Know Today: Thursday, December 8th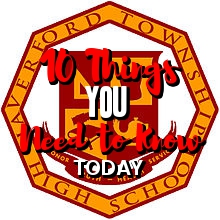 Hang on for a minute...we're trying to find some more stories you might like.
 1. 2 teens charged with arson in the recent Tennessee wildfire that killed 14. 
Two teens have officially been charged with aggravated arson for causing Tennessee's recent wildfire outbreak. The adolescents are being held in Sevier County where they await a bond hearing in Juvenile Court, but they could be transferred to Criminal Court where they would be tried as adults. More charges are possible. 
2. Club leaders are urged to select members who "outshine" for the 2017 Greystones yearbook. 
After a brief meeting during homeroom for leaders of activities, the attendees were challenged to select multiple dedicated members of their organizations for possible features in this year's yearbook. With any questions, email Sarah Kane, Jake Fittipaldi, or Dana Kaufhold.
3. Giraffes now on endangered species list with recent drop in their population.
With the recent decline in giraffe population, the world's tallest animals are now being considered an endangered species. Their population has taken a dive by nearly forty percent since the 1980s and many specialists are especially concerned for the population's well being.
4. Delaware County Technical School is offering a presentation for interested students during homeroom today. 
Any students who might be interested in the vocational technical education offered by DCTS should meet in room 126 during homeroom today to hear more about the options within the school and what is required for application.
5. Today is the 36th anniversary of John Lennon's death and Yoko Ono is making a plea for gun control in his memory. 
As the world mourns the 36th anniversary of musician John Lennon's passing today, his widow, Yoko Ono, has made a call for peace in his memory and demands stricter gun control laws to prevent more senseless use of the weapons. Lennon and his wife were returning from the recording studio to their home at The Dakota on December 8, 1980 when 25-year-old crazed fan Mark David Chapman shot him at close range.
6. Spanish Club is selling bracelets for charity at all lunches.   
During all lunches, the Spanish club is selling bracelets to help the Pulsera Project. The project is a nonprofit organization that "educates, empowers and connects Central American artists with students in more than 1300 U.S. schools." It is a fair trade project and all proceeds go back to the country. The sale will continue until December 19th. 
7. There is a mandatory boys tennis meeting after school today. 
To any boys interested in joining the tennis team, there is a mandatory meeting with Coach Withers after school today. Members can congregate in room 364 for the brief session. 
8. Chance the Rapper's new album, Coloring Book, is the first streaming-only album to be nominated for a Grammy. 
With a whopping seven Grammy nominations, Chance the Rapper made history as the artist behind Coloring Book. The album is the first streaming-only work to be nominated for a Grammy. The popular artist's nominations include Best Rap Song, Best Rap Album, Best New Artist, Best Rap/Sung Collaboration, and Best Rap performance.
9. Ohio moves to ban abortion as early as 6 weeks after conception. 
Nicknamed the "Heartbeat Bill," Ohio's legislature has just passed a movement to ban abortion as early as six weeks after conception. The bill awaits Governor John Kasich's potential veto. If he doesn't veto the "Heartbeat Bill" within ten days, it becomes law.
10. There are 11 days of school left before Winter Break. 
With just eleven school days until winter break, Haverford students are gearing up to celebrate in the holiday spirit. To get the community excited, The Fordian is covering the 12 day countdown to break with a new article every school day; be sure to check them out!