10 Things You Need to Know Today: Wednesday, December 7th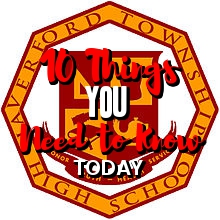 Hang on for a minute...we're trying to find some more stories you might like.
1. Today is the 75th anniversary of the bombing of Pearl Harbor. 
On this day 75 years ago the American Naval Base at Pearl Harbor, Hawaii was attacked by the Empire of Japan, causing American forces to join World War II. This month, Japanese Prime Minister Shinzo Abe announced that he will be visiting Pearl Harbor with President Obama on December 26 and 27. He will be the first sitting Japanese leader to travel to the site of the attack. 
2. Red and Gold team t-shirts are now on sale during all lunches. 
Red and Gold t-Shirts are on sale for $10 in all lunches. Purchasing the shirt will get you access to Red and Gold Night for free. Shirt sales conclude at the end of this week, so get them while you still can.
3. Death toll in Oakland club fire rises to 36 with the possibility of a murder case.
On Friday December 7, a fire at an Oakland warehouse broke out. Inside was an party without a permit with as many as 50 people inside at the time. The fire is believed to have been started by a malfunctioning refrigerator. According to legal experts there most likely will be murder charges filed; on who, they do not know yet.
4. Yearbook staff asks that seniors complete surveys and quotes by December 23. 
The form for senior quote submissions as well as the "Who's Who" survey and senior survey has been e-mailed directly to seniors' Haverford (Google Drive) accounts. The quotation and surveys are due by the end of the day on December 23, the last day before winter break.
5. Pakistan International Airlines Flight carrying 48 passengers has crashed in Abbottabad, Pakistan. 
This morning, Pakistan flight PK-661, carrying 48 people, crashed in Pakistan. The plane was a twin engine ATR-42, and the cause of the crash is not yet known. There are no survivors. 
6. Consider joining the student-led production of Almost Maine.   
Senior, Darci Gold, is bringing an opportunity to students who are interested in a more hands-on producing and acting opportunity. E-mail her to find out more information about the meetings.
7. The 2017 Grammy nominations were announced yesterday. 
This year's 59th annual Grammy Awards will take place on Sunday, Feburary 12. The nominees were lead by Beyonce, who snagged 9 nominations, along with Drake, Rihanna, and Kanye West, who each earned 8. The show includes 84 categories in all. 
8. Donald Trump was named Person of the Year by Time Magazine. 
Despite scrutiny, Time Magazine announced this morning that they will be naming the President-Elect Donald Trump as their Time Magazine Person of the Year for 2016
9. There are 12 school days until Winter Break. 
The last day of school is Friday, December 23rd. The break is in sight with only 2 Mondays between all of us and vacation. With the weather finally starting to turn cold, the break feels like it is coming even faster. Stay tuned tomorrow for The Fordian's coverage of the 12-day countdown to break. 
10. "Hairspray Live!" will air tonight on NBC. 
After the successes of other live musical broadcasts like "Peter Pan Live" and "Grease: Live," NBC debuts "Hairspray Live!" tonight at 8/7c. Major stars like Kristin Chenoweth, Harvey Fierstein, and Derek Hough will appear as well as exciting newcomer, Maddie Baillio in the lead role.