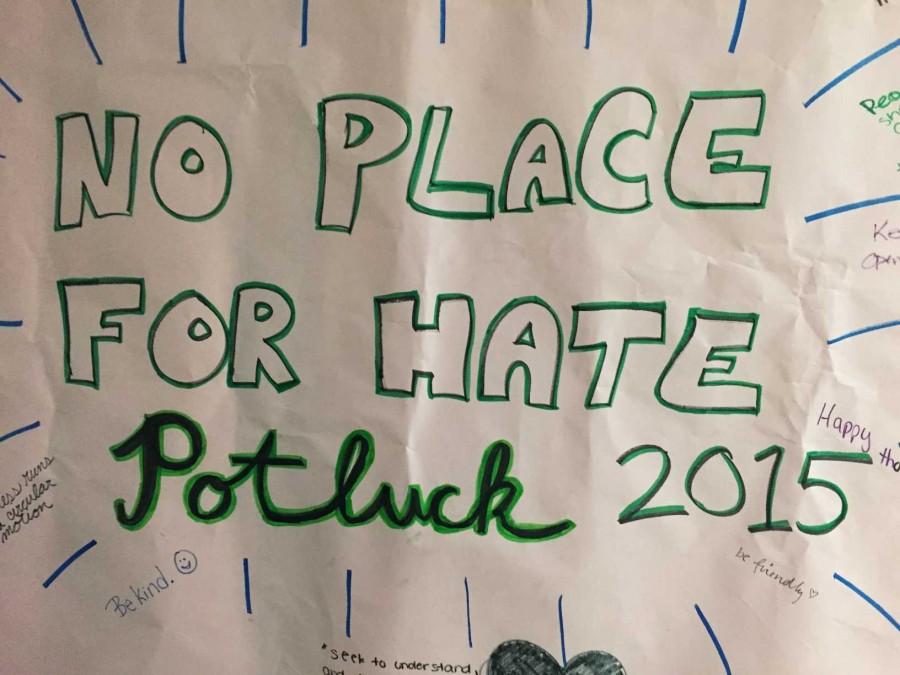 Although most of the night was positive and brought friends and people who didn't know each other together, I think that the success of the No Place for Hate Potluck dinner was overshadowed by the conclusion of the event. The final activity was a collection of different competitions where people from previously divided groups were judged on physical appearance, how well they could imitate other people, and which group had taken the best selfie. While all of these short things were all in the name of having a good time, it's still striking that they in principle are markedly different from the messages and philosophy of the club.
The fact that the night would climax at a point with exercises in judging other people based on differences seems to blatantly go against the principles of tolerance and valuing diversity that No Place for Hate is all about. Instead of focusing on how one selfie was not as well done as another, I think that the club should have organized perhaps a session of sharing different experiences members and those attending had during the year which was something advertised as being an integral part of the potluck dinner.
As the event drew to a close with the final activities, it was odd that the club chose to focus on seemingly arbitrary systems of ratings and superlatives that drew attention to how the club was not really making the moments based around tolerance or understanding of the beauty of human diversity. The disconnect between what actually happened in the final moments of the event thus seemed to overshadow the success of the night that led up to the ending which put a disappointing hamper on the overall mood, philosophy, and principle the night was supposed to be founded upon.
Instead of the competitions at the end that focused on the opposite of the club's message, it would have been a lot more consistent with the philosophy of No Place for Hate to perhaps, share narratives of what the year had been like for different people, as was advertised but that did not come to fruition. Through an open-sharing type of forum, students who attended could have shared stories about what their experiences were like this year as many reflect on how their past year was, and attendees could have learned more about not only the people in attendance, and their stories, but that of the larger Haverford community; things No Place for Hate at Haverford is supposedly about.