First Mini-THON at Haverford: fun and games set to help fight childhood cancer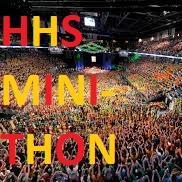 Haverford High School's first ever Mini-THON is coming!
On February 20, 2015, Haverford High School will hold its first Mini-THON in support of Four Diamonds' pursuit to conquer childhood cancer. The event is a six-hour dance marathon full of games, food, prizes, and (ambiguously exciting) more.
Tickets will be sold at all lunches from Monday, January 26th, to Friday, January 30th, the first week of the second semester. Tickets cost $10 and are required for entry along with a student ID. The event is from 4:30 to 10:30 on February 20th.
Students who want to get involved should also raise a minimum of $20 on Donor Drive. Go to fourdiamonds.org and under the "Mini-THON" tab click "Find a Mini-THON." Click "Click here to search for upcoming Mini-THON events" and scroll down to Haverford's Mini-THON, click on the link, and register to attend. Then create your own Mini-THON participant page, send out the given link to everyone you know, and watch your thermometer rise to your goal! This $20 Donor Drive contribution is also required to attend Mini-THON.
Four Diamonds is a local organization that works with Penn State Hershey Children's Hospital with the goal of "conquering childhood cancer" in every respect. Treatment of disease is only one priority and is accompanied by clinical nutrition, clinical psychology, nurse specialist, social work, music therapy, and pastoral care services. Four Diamonds also funds a state-of-the-art cancer research and covers all medical expenses for children who are not covered by insurance policies.
Mini-THONs are "interactive, fun-filled" events at the core of Four Diamonds' effort to conquer childhood cancer. Their goal is to "inspire teamwork, leadership, and creativity while empowering young people through philanthropy and service in the fight to conquer childhood cancer." Mini-THONs are based off Penn State's IFC/Panhellenic Dance Marathon (also known as THON) that began in 1977. THON alone has raised more than $114 million in the fight against childhood cancer.
Four Diamonds offers some startling statistics. A child somewhere in the world is diagnosed with cancer every three minutes. 1 in 5 children with cancer will die of the disease within five years. There is still work to be done. Become a part of the solution by taking part in Mini-THON here at Haverford this February.